We're aware of an issue with this stream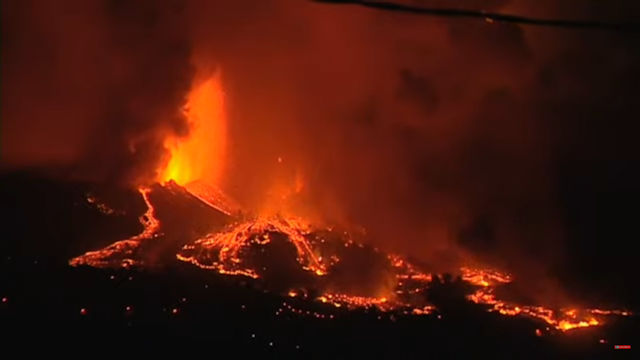 La Palma (Canary Islands) Volcano Eruption Webcam
Eruptions mean disruption and that's what you can see on this live feed showing the current volcanic action on the island of La Palma in the Canary Islands.
La Palma is the fifth largest island in the Canarian archipelago and hasn't seen action like this since 1971 when the same volcano, la Cumbre Vieja or Old Summit, spewed molten rocks and lava for ten continuous days.
After a lot of subterranean grumbling which has been shaking the countryside with a series of continual earthquakes numbering more than six thousand, but not measuring more than 3.8 on the Richter Scale, Cumbre Vieja finally let loose on Sunday the 19th of September.
So far, as the lava flow has crept down the mountain it's destroyed a hundred houses of the village of El Palo, set fire to the surrounding pine forests, engulfed the vicinity in dense smoke, provoked acid rainfall over the sea and caused multiple evacuations of residents and tourists. How long the eruption will last or what more damage it will do no-one knows. We'll all just have to wait and see.