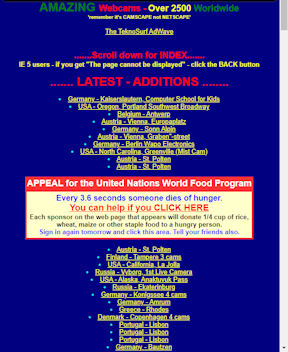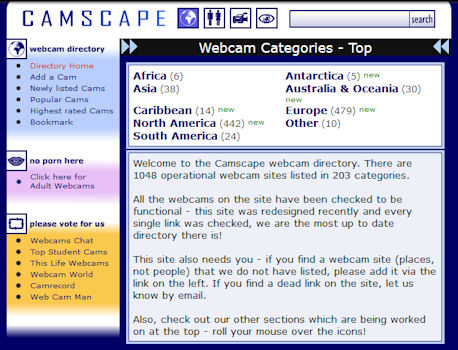 Camscape started life in 1999, and was a gigantic one-page list of all the webcams that were found at the time online. In 2004, the site was acquired and redesigned and all the webcams were categorised by location in a directory format.
During 2009-2012, lots of extra work went into the site to keep it fresh but it was battling the tide of smartphone usage and the rise of streaming, which takes us to the present day and a new decade – with a total refresh, now friendly for anyone on any device and showing some of the very best HD and 4K streaming webcams.
We're always improving the way Camscape can help you find Webcams – our 'hot right now' section uses a proprietary algorithm to direct you to the places people are looking for right now – which could be to do with the news or other events in that are poignant to that area or specific webcam.
Information for Webcam Owners on Camscape
If you or someone else has submitted your webcam(s) and you now don't want them to appear on the site, please get in touch – we'll be pleased to remove them. Before you do, please read this however. We like to think there is a symbiotic relationship here:
Any ads rolled out within your embedded cams, e.g. YouTube ads, will still be monetised to you if your embedded cam shows them and you're the normal recipient of such revenue. We only embed cams using the same embedding techniques found at source. If you have alternative embedding code which makes sure you benefit, please let us know.
We always try and provide the most accurate source URL on each listing and can accommodate alternatives should you prove ownership.
If you wish us to specifically mention something in the description, we'll certainly consider it.
If you are trying to get on Camscape with your webcam and we never add it, please consider:
We only add cams of locations/scenery/business premises, not private spaces.
We will always look for the originator of the webcam – e.g. if there's a watermark in the webcam image with a different domain name in – so it may be the cam you submitted was added, but attributed to the actual owner.
Any webcam site which does nasty things with the users' browser or anything else nefarious may not be considered.
Privacy Policy
We are conscious that in this ever changing world, people are more and more concerned that their personal information is kept confidential and Camscape plays a part in ensuring this to be the case. If you submit a webcam to us, we collect and store the following information up until the moment the webcam is either not approved or deleted at a later date:
Your name, email address, Webcam URL, category information you submitted and any title/description you gave the webcam.
If you contribute to the site with comments on the individual cams, we may collect some or all of the following information:
Your name, email address, any URLs you provide and the comments you made.
Cookies
Some parts of our site use cookies as a way to interact and improve user experience. A cookie is a small text file which is stored on your computer and has a limited amount of data about your use of the site. Most websites use them. If you clear out your cookies, you may find some features don't work as well as you're used to, such as favourites.
Contact Us
If you have any queries about the above, or anything else, you can get in touch.