We're aware of an issue with this stream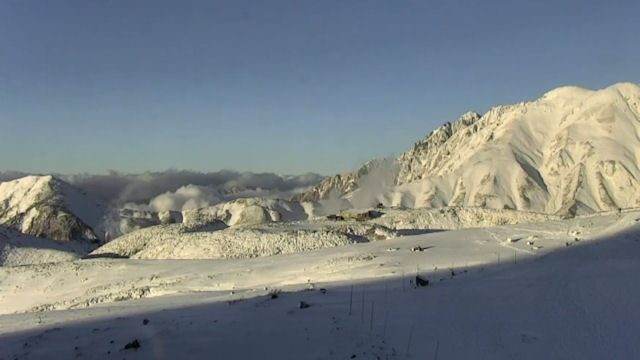 Tateyama Murodo Mountain Cam
This live feed from the Tateyama Murodo Mountain webcam will be of particular interest to any climbers considering scaling its craggy heights. And even to some folks who are not!
Mount Tateyama, or Mount Tate as it's often referred to, is a peak in the Hilda Mountains of Japan. At almost ten-thousand feet high, it's a dominant feature of the Toyama Prefecture on Honshu island. It's also the point with the highest altitude on the Tateyama Kurobe Alpine Route.
In truth, you don't need to be a mountain climber to enjoy the volcanic plateau of the Tateyama Murodo. Sightseers arrive at the lower altitudes by the coach load. They go to take a stroll through the Yuki-no-otani and capture fantastic photographs of Mount Tate reflected in the crater lakes.
If Japanese is a language you've still to master, Yuki-no-otani roughly translates to snow wall. The Tateyama Murodo receives some of the heaviest annual snowfalls in the world and walls of snow are left either side of the roads when they're cleared. The Yuki-no-otani are a major tourist attraction for the region and one that draws visitors in big numbers until the big melts start in late summer.