We're aware of an issue with this stream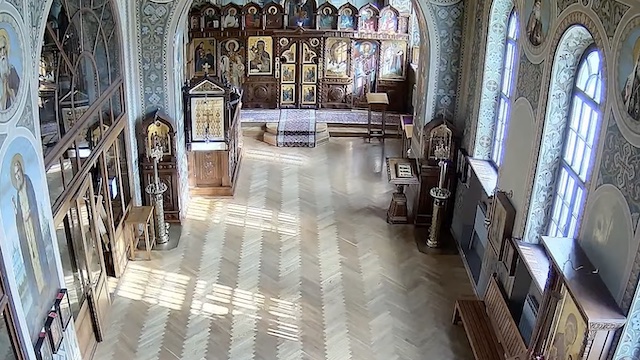 Inside The Trinity Monastery of St. Jonas in Kyiv
If there's one place in Kyiv, the capital of Ukraine, where tranquillity still reigns, it's in the Trinity Monastery of St Jonas.
Until recently this monastery has been little more than a majestic adornment in the Kyiv National Botanical Gardens. After being closed since the early 1930s, the monks have now returned. Thankfully someone kept up with the housekeeping of the chapel's ornate interior and there's not a century-old mote of dust to be seen anywhere.
You can join the monks for morning and evening services via this live feed. Morning service begins around seven-thirty and evening service at four in the afternoon. Watching it from home means you can sit down through the prayers which is more than the worshippers who attend in person can do. Inside the chapel it's standing room only.
The Trinity Monastery of St Jonas isn't the only multi- domed religious building in the botanical gardens as the elaborate Vydubychi Monastery is also located within the grounds. The question is – is that where all the chapel pews have gone? Only the monks will know the answer to that.