We're aware of an issue with this stream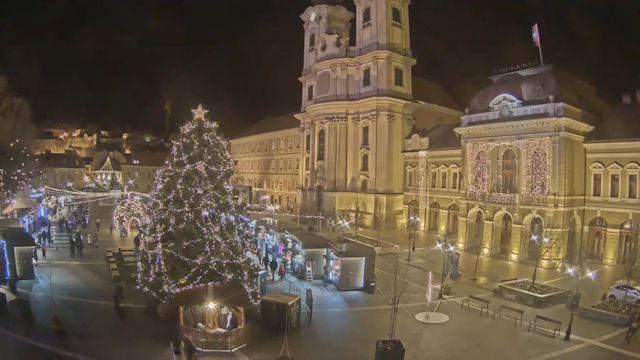 Dobó István Square Webcam, Eger
Eger in Hungary is a city that likes to be overlooked by its statuesque buildings and Dobó István Square doesn't escape the trait.
Dominated by the ornate towers of the Church of Anthony Padua, and several imposing statues that are severe enough to put anyone off socializing under their magisterial presence, Dobó Square surprisingly remains a popular get together spot.
Towering over the city center too is the medieval Eger Castle and the one-hundred and thirty foot high 17th century Eger Minaret. Are they why day tourists flock to Eger from Slovakia, Russia, the Ukraine and even Italy? No, not really.
Sightseeing in Eger may be good, but it's not as good as the warm waters of the city's thermal spa or the first-class red wine produced on the Nagy-Eged Hill. Both count as more legitimate reasons for going there – if visitors to the city tell the  honest truth!