We're aware of an issue with this stream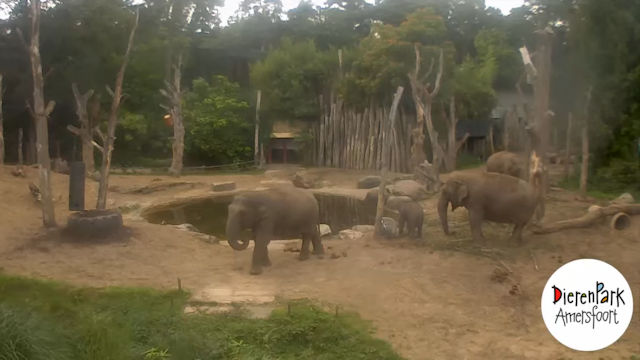 Elephants at the DierenPark Zoo, Amersfoort
If you fell head over heels for the accident prone, animated flying elephant called Dumbo, you'll love watching the clumsy antics of real baby elephants even more.
These four elephant live feeds are being streamed from the elephant enclosures and house at the DierenPark Zoo in Amersfoort in the Netherlands. It's a specialist zoo that focuses on educating children about animals while having fun in the zoo's playgrounds and dinosaur park. The zoo also runs breeding programs of endangered species for conservation purposes.
The elephant herd at DierenPark Zoo is a small one with two females, one bull and two babies. The babies are getting bigger every day so it won't be long before they're rehomed. The gestation period for elephants is eighteen to twenty-two months, so after they're gone you'll have to wait over a year before the next ones are born. In the meantime, you can enjoy watching how the keepers clean up the elephant dung – with a bulldozer.