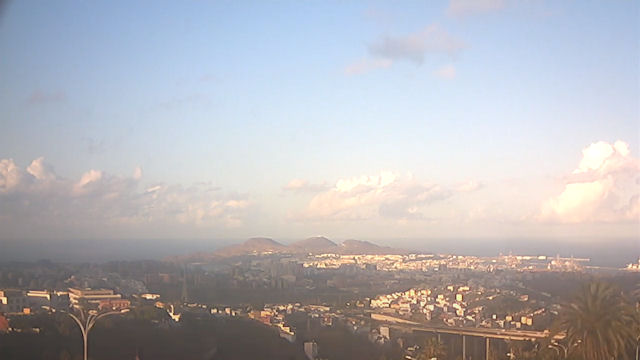 Las Palmas de Gran Canaria Webcam
Las Palmas is the capital city of the second largest island in the Canarian archipelago, Gran Canaria and a city which surprises many visitors with its diversity.
Situated high up on the north-east coast of the island where there are exceptional beaches, Las Palmas began its commercial growth with tourism. Now almost forgotten as a holiday destination, after being overtaken by the mass construction of hotels in Gran Canaria's southern resorts, Las Palmas is a port receiving heavy maritime traffic from cargo and cruise ships.
Surrounded by a spread of high-rise urbanization is the city's historic center. With narrow cobbled streets, it's an antiquated and characterful nucleus with museums, parks, pedestrianized shopping areas and lots of pavement cafes. While Las Palmas may appear uneventful that all changes once a year when it's carnival time. The annual carnival takes over the city for weeks on end with parades, spectacular beauty pageants, murga competitions and one of the best drag queen contests in Europe.