We're aware of an issue with this stream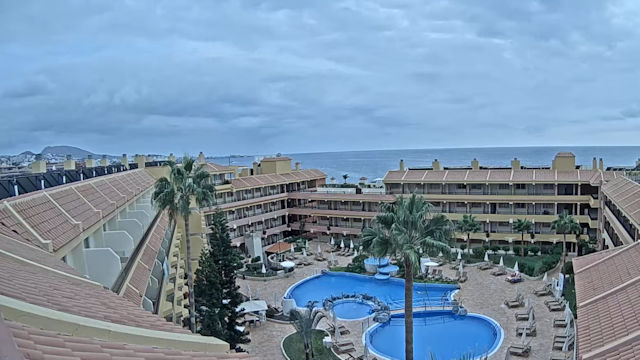 Holiday Views from Hotels on Tenerife
Tenerife is the largest of the Canary Islands and one where luxurious hotels stand next to cave houses. On these live feeds coming from Costa Adeje on the southwest coast, if you hadn't guessed already, you're seeing the hotels.
Costa Adeje is a multi-national tourist zone where before the streets of apartment blocks and big hotels were built was basically just bare rock. Geological factors like the wind, sun and the very occasional bout of rain, played a fair hand and turned some of that rock to sand which now lines the coast. The beaches of Costa Adeje are what has attracted tourists since the late 19th century.
It's the beaches and the year-round sunshine that have acted like magnets to any Brit who wants to open a bar or fish and chip shop. While you'll find plenty of Union Jacks on restaurant menus in Costa Adeje, Canarian ones and typical Canarian food is a lot harder to find. It's definitely worth searching for though so keep looking and you just might come across a local bar serving papas arrugadas con mojo.