We're aware of an issue with this stream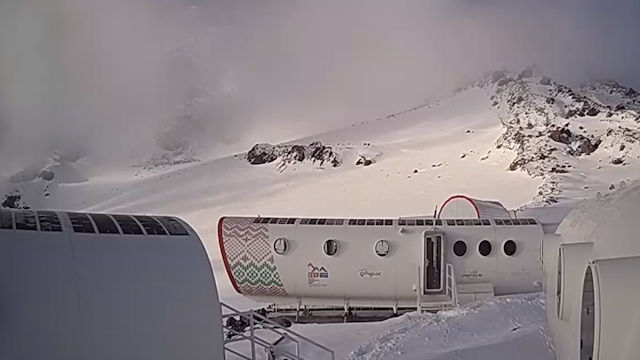 LeapRus Capsule Hotel Webcams on Mount Elbrus
There are probably only a few reasons why you would ever want to stay in the LeapRus Capsule Hotel and all of them questionable.
The LeapRus Capsule Hotel is located on the side of Mount Elbrus which, at a staggering five and a half thousand metres plus high, is the highest peak in Russia and in Europe too. At the hotel you get to sleep in a communal pod, which looks like a giant tin can, with amazing views of the icy wastelands that has not a lot more than a kettle, a bed alongside eleven others and a shared bathroom somewhere on the complex.
If you go to stay here you're either hiding from the KGB or the CIA, are an absolute extreme winter sport fanatic and like to make your life hard, or you want a photo for your social media account no one else has snapped so far. Whichever applies to you – good luck on all counts. Have a great time.