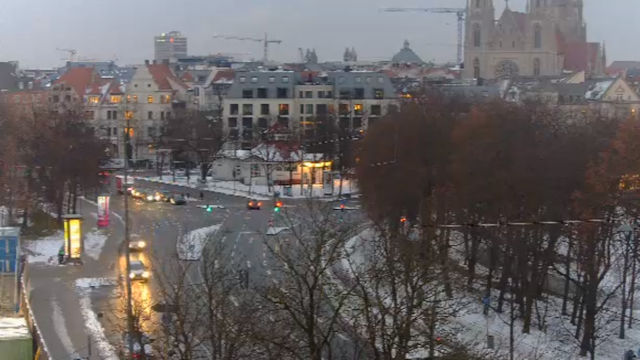 Munich from the Krone Hotel
Take a look at the center of Munich with this webcam streamed from the Krone Hotel and you could be forgiven for thinking the Gothic spires dominating the skyline belong to the city's cathedral. They don't. They're part of the inaptly named Neues Rathaus or New Town Hall about which there is very little new as it's over one-hundred and fifty years old.
While the Rathaus does add a touch of architectural elegance to Munich's skyline, the webcam lens is too far away to show off it's most popular feature – the Rathaus-Glockenspiel. The glockenspiel is an ornate, automated musical theater that performs the same routine three times a day. It might be the same old show, but the tourists never get tired of watching the fifteen minute spectacular even when staring upwards for so long gives them a kink in the neck.