We're aware of an issue with this stream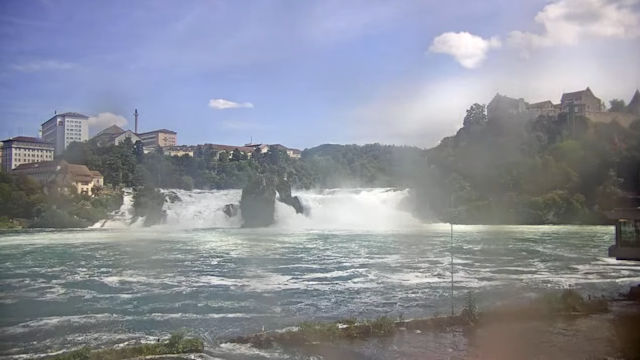 The Rhine Falls in Laufen-Uhwiesen
The Rhine Falls in Switzerland are an awe-inspiring force of nature that generate some incredible statistics if not a great deal of hydropower.
The Rhine Falls is a one hundred and fifty meter wide waterfall on the Rhine River in the municipality of Laufen-Uhwiesen, near the town of Schaffhausen, in the north of the country. It cascades over a cliff face more than twenty meters high and when in full force spills in excess of a thousand cubic meters of water every second down into the catchment basin below.
The Rhine Falls are a truly majestic sight to appreciate via a live feed but more fun is watching the tourists boats bobbing around in the turbulent waters when they try to get up close to the falls. You need a raincoat and an umbrella for that trip even when the sun is shining.