We're aware of an issue with this stream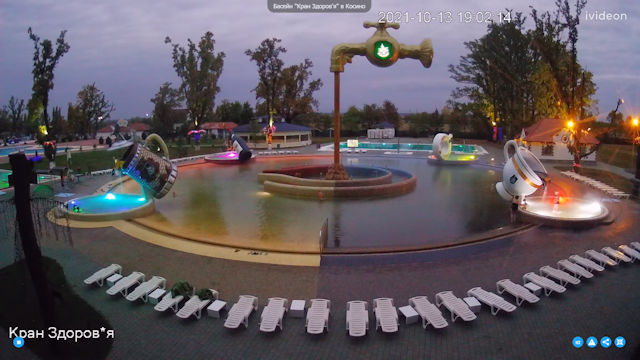 Golden Tap of Health, Kosino
Go to a water park in the Ukraine and ou'll find it quite a bit different to any you may have been to before, especially if you go during the autumn and winter months as the water will be steaming.
This live feed streaming from the Kosino Thermal Resort complex is focused on their newest installation, the Golden Tap of Health. The floating tap is a fountain-jacuzzi which cascades down into a main pool and fills four other spa pools. The spa pools haven't been left unadorned either, but the giant coffee cup, beer tankard, wine bottle and palenka, a traditional ceramic liquor bottle, although very decorative, can't compete with the golden tap.
Is it cold when you get out of the 41ºC thermal spring water into the chill Ukrainian air? It's not a proven fact, but maybe the answer can be found by watching just how quick people grab their towels when they get out of the pool.