We're aware of an issue with this stream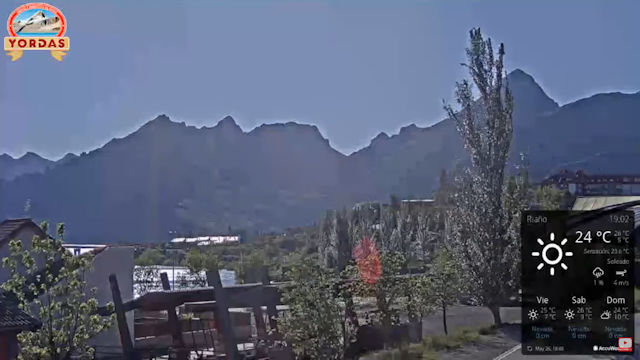 Riaño and Pico Yordas Webcam, León
If you're ever in the region of Leon in Spain and looking for somewhere to have a picnic, you'd struggle to find a more scenic spot than the one you can see on this webcam. You wouldn't need to go far to find the filling for your bread rolls either.
Riaño is a village that nestles under the towering limestone slab called Pico Yordas at an altitude of over one thousand metres. It's surrounded by what is still pretty much an unspoilt Spanish wilderness where the countryside is inhabited by more goats, wild boars, chamois, brown bears and Iberian wolves than it is people. It's a place where the air is pure and ideal for curing meat which is what the company who streams this live feed do.
One of the specialities of Embutidos Yordas is Cecina de Leon which is a type of cured beef similar to prosciutto. It's a tasty product that, as well as going well with bread and strong cheese, is the perfect distraction for throwing at bears and wolves should you run into one while hiking the trail to the summit of the peak.