We're aware of an issue with this stream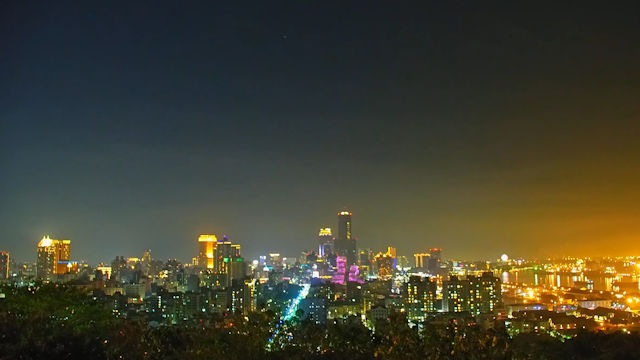 Kaohsiung City and Lotus Pond Webcams
Kaohsiung City in southern Taiwan is a sort of fusion of old and new. With these live feeds you'll get superb views of the city's modern architecture and what appear to be the pagodas of an ancient temple that isn't ancient at all.
The most spectacular views of the city can be seen on the Love Lookout feed which is streamed from a viewing platform in the Shoushan Guojia Natural Park. The cam pans to a new location every so often so stay with it to get the full effect. The most outstanding building you'll see is the Tuntex Sky Tower which at two-hundred and fifty metres tall, is unmissable by day or by night.
The Lotus Pond isn't a pond at all but a man-made reservoir and those impressive pagoda towers, constructions of the mid-1970s. The pagoda towers have massively ornate entrances. One representing a dragon and the other a tiger. It's said to be lucky if visitors enter through the dragon's mouth and exit through the tiger's. Other than getting under everyone else's feet, no-one seems to know what happens if you do it the wrong way round.