We're aware of an issue with this stream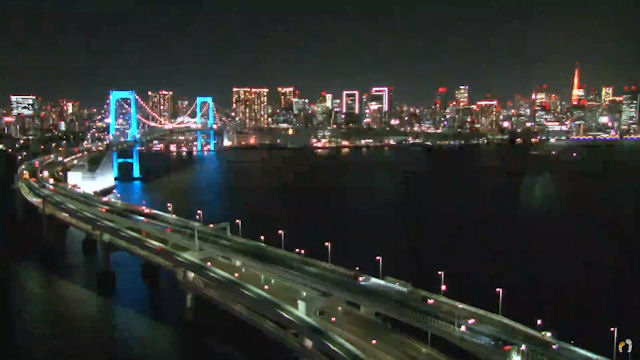 Tokyo Bridge and City Views
There are lots of interesting sights to see in Japan's capital city, Tokyo. Catch some of the most exciting ones through these live feeds from the Tokyo Bridge and Tokyo City webcams.
Parts of Tokyo are known as Electric City and it's not surprising. Watch Rainbow Bridge, or Tokyo Bridge, light up and you'll soon see why. The half-mile long suspension bridge crosses Tokyo Bay and is the portal to the techno playland, Odaiba. Check the Rainbow Bridge live stream regularly as the colorful spectacular changes on a regular basis.
Not to be outdone, Tokyo Tower lights up nightly too. The one-thousand feet plus communications tower is one of the most outstanding features of the Tokyo skyline. When fully illuminated it has the same oh-la-la factor, only in plus size, to its French counterpart the Eiffel Tower, whose design it was based on.
Mount Fuji, Japan's iconic volcano, can be seen quite clearly from Tokyo though they are distant views through these feeds. To get a closer look at the active volcano in all its glory, take a look at the Mount Fuji webcams. You won't be disappointed.