We're aware of an issue with this stream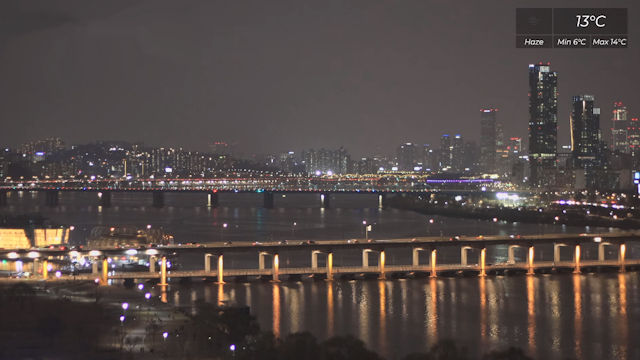 Seoul Cityscape and Banpo Bridge Webcam
A bridge is, well, just a bridge no matter how architecturally inventive it is and its sole purpose is to provide a useful way of crossing over waterways or ravines, right? If it's the Banpo Bridge in Seoul, the capital of South Korea, then wrong.
Banpo Bridge stretches across the Han River where it flows between two of Seoul's major districts. Not only is Banpo Bridge a five thousand foot, multi-lane thoroughfare it's also the world's longest bridge fountain.
When the fountain's thousands of LED lit jets are spouting river water during the daytime, it's impressive. From late April to the end of August in the evenings that show becomes a light spectacular and truly earns its name of Moonlight Rainbow Fountain.