We're aware of an issue with this stream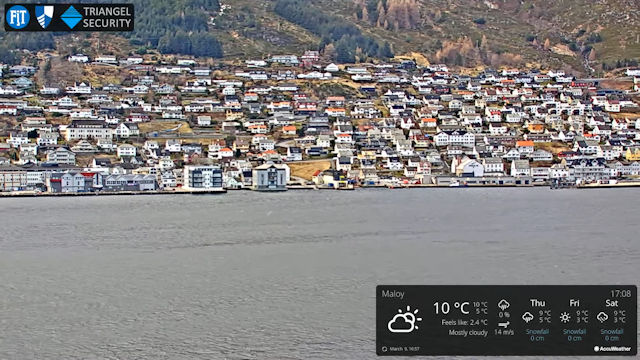 Scenery from the Town of Måløy
Thanks to Triangel Security who stream this webcam you can get to see some super views of Måløy in Norway and you'll have to agree, Måløy is a Norwegian town with a definite wow factor.
Måløy isn't located on mainland Norway but on the island of Vågsøy around six hundred kilometres from the capital, Oslo. One of Måløy's most outstanding features, apart from its colourful houses backed by pine forested slopes and it's busy fishing harbour, is the Måløy Bridge.
The bridge is an architectural wonder and stretches for one and a quarter kilometres over the Måløystraumen Strait connecting the island to Deknepollen on the mainland. If there's no traffic on the bridge that means it's a windy day. While the bridge may have been built to withstand gale forces of upto one-hundred and seventy miles per hour the vehicles that drive over it haven't and so they can't cross or they'd just get blown straight off.