We're aware of an issue with this stream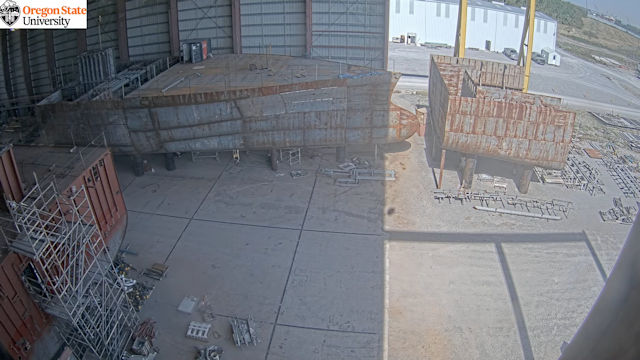 Oregon State University Research Vessel Construction Cams
Just because you're participating in a major project in oceanographic research doesn't mean you have to do all the work yourself. Ship building isn't on the curriculum at Oregon State University so the building of their research vessel, the R/V Taani, has been shipped out, literally, to the Gulf Islands Shipyards in Houma, Louisiana.
R/V Taani is just one of three research vessels of its kind being funded by the National Science Foundation for oceanographic research. The other two vessels are destined elsewhere. One for the University of Rhode Island and the other is to be shared in a joint project by the Universities of Southern Mississippi and the Louisiana Universities Marine Consortium.
R/V Taani's launch date is sadly slightly overdue, she should have set sail in mid-2021, but as you can see on the cams, she's still resembling more of a shipwreck than a new build ready to explore the coastal regions of Oregon. Hopefully the last rivets and welds will be in place soon and this prospectively elegant, sixty meter-long research vessel will be out on the West Coast trawling the ocean depths and gathering information as she's been tasked to do. Let's hope the launch party will be on cam too.