We're aware of an issue with this stream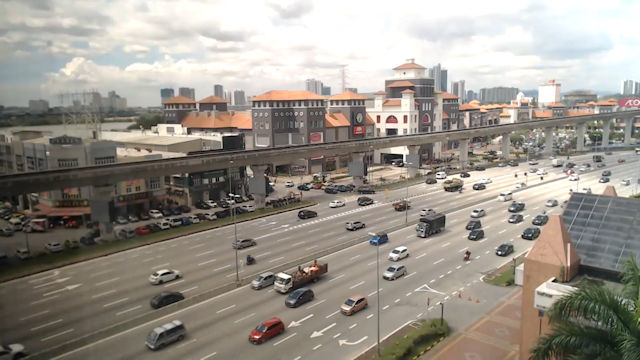 'IOI' Shopping Mall and the Traffic of Puchong
While the star and main focus of this live feed streaming from Puchong in Malaysia should be the 101 Shopping Mall, it's not.
Behind the facade of the 101 Mediterranean village-style mall there may be a million square feet of retail space housing four floors containing hundreds of outlets, but what's inside is nowhere near as fascinating as what's outside. Believe it, after a couple of seconds watching this Puchong 101 mall webcam you'll have forgotten all about shopping as you'll have been totally hypnotized by the movement of the traffic.
The traffic on the Lebuhraya Damansara Expressway which runs in front of the mall never stops unless something unexpected occurs. The constant flow is like watching a video game that's out of control, and even freakier at night when it resembles a game of pacman created with countless cat's eyes. You'll be holding your breath and sitting on the edge of your seat when you see all of the near misses. Who needs retail therapy when you have this Puchong webcam?