We're aware of an issue with this stream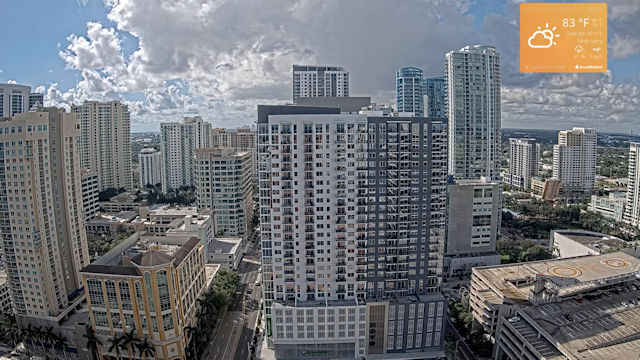 Fort Lauderdale Downtown Webcam
There's probably only one conclusion you can arrive at after viewing this live feed of Downtown Fort Lauderdale and that is, the city architects like designing tall, rectangular-shaped buildings and there's not a lot happening. You'd be almost right on both counts, but not quite.
Although it's not particularly noticeable on this live feed, Downtown Fort Lauderdale is renowned for being the upbeat party zone of this Florida city. While it may be hip to be square if you're a skyscraper, it's not when you're hitting the district's bars and clubs. Taking care going home after a night of revelry in Downtown Fort Lauderdale is essential too or after a few drinks in one of the tiki bars there you could end up making a splash, not socially, but in one of the district's many canals.
When you get bored with looking at the monolithic high rises, keep an eye on the heliport in the bottom left hand corner of the screen. The spinning rotary wings of a landing helicopter will add some movement to the picture for at least as long as it takes for them to stop going round.