We're aware of an issue with this stream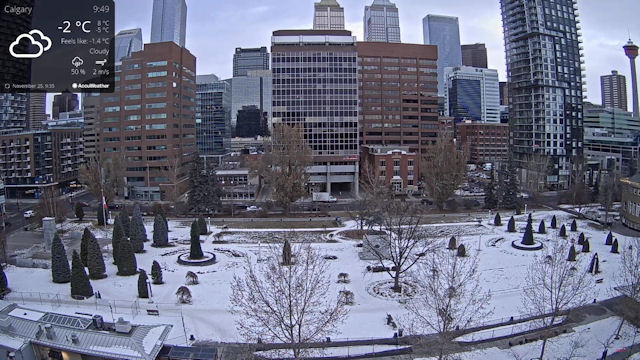 Calgary Webcam
If there was ever a city with a culture clash then it has be Calgary in Canada. View the Calgary webcams and there's nothing but immense high-rise towers as far as the camera lens can see.
Through the Central Memorial Park cam feed get a glimpse of the city's oldest park backed by the skyscrapers of its most modern and fashionable suburb, Beltline. As trendy as Beltline may be with its chic eateries and craft breweries, Calgary's heart is still in its boots – cowboy boots that is.
Calgary has been associated with rodeos and stampedes since the early 1900s and has no plans on changing. The Calgary Stampede is the city's major annual event. Held outdoors in Stampede Park, the rodeo attracts over a million and a quarter spectators bent on enjoying the bull and bronc riding, steer wrestling and roping and any other rodeo shenanigans they come up with.