We're aware of an issue with this stream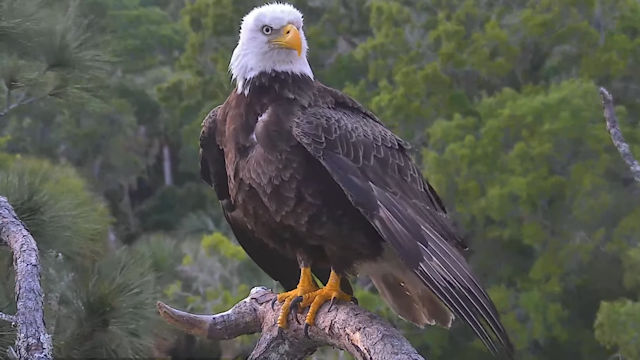 Bald Eagles Samson and Gabrielle in North East Florida
For once it's not the birds with a bird's eye view, but us humans and what an amazing view it is.
This collection of bald eagle nest cams are being streamed by the American Eagle Foundation from a nest somewhere in northeast Florida. For preservation reasons the nesting site is not being disclosed, but we'll let you into the secret. It's at the top of a tree and a very tall tree it is too.
Samson and Gabrielle have been returning to nest at this same site for several years now. It's home from home for Samson as he was actually hatched in this very same nest in 2013. Don't worry if you click in and think you're seeing double. It's hard to tell the difference between Gabrielle and the chick that hatched back in January. If the youngster has flown the coop before you found the cam, the next egg laying session will be around December so pop back then and you'll be able to see the entire process start all over again.