We're aware of an issue with this stream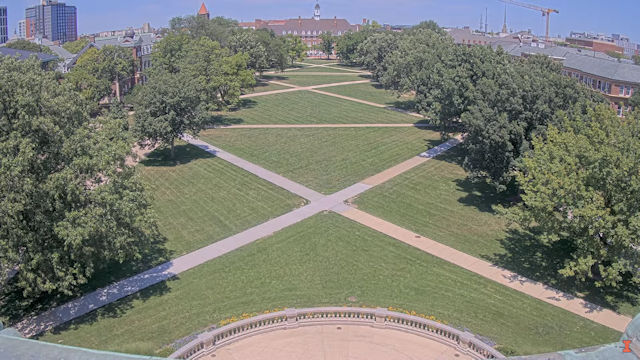 University of Illinois (Champaign) Webcams
Since its founding in 1867 the University of Illinois Urbana-Champaign has been a revered seat of learning in all respects. It's a place of study that has set some of the United State's best known entrepreneurs on their diverse career paths. Diverse paths they have been too.
From inventing LED lighting to integrated circuits to the quantum well laser, the alumni of the UIUC have been world changers in many ways and won Pulitzer prizes for their endeavours. Many of the things used on the internet have been created by companies of ex-alumni including Firefox, Youtube, Yelp and Safari to name just a few. It's easy to imagine those prestigious pupils wandering along the criss-cross paths of the university's lawned quadrangle while making their genius-inspired decisions.
There was probably only one who got lost on those paths trying to come up with ideas and inventions for a career. His creativity came to an abrupt halt as soon as the idea for Playboy magazines came to mind. There was definitely no Pulitzer Prize for that invention.