We're aware of an issue with this stream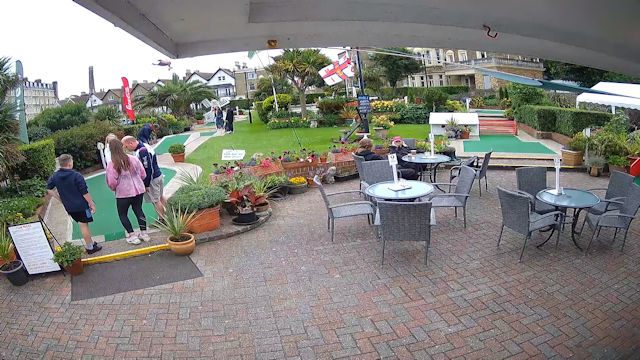 Mini-Golf Webcam in Broadstairs
How do British holidaymakers spend their vacation time? That's a good question and one that's partially answered by this live feed from the Lillyputt minigolf course in the seaside town of Broadstairs.
The sun in the UK rarely produces enough warmth to entice anyone to strip off their clothes and stretch out on the beach. Once all the local landmarks, like the white cliffs of Kingsgate Bay, the castle, the Dickens House Museum and the Crampton Tower have been sightseen and photographed, other forms of amusements in Broadstairs are in relatively short supply.
British holidaymakers are never phased though and are more than happy to spend a couple of hours putting little white balls down tricky holes on a minigolf course. Follow a game with a ration of fish and chips eaten from the paper while walking along the promenade and you could almost call it a perfect day. Almost, but not quite.