We're aware of an issue with this stream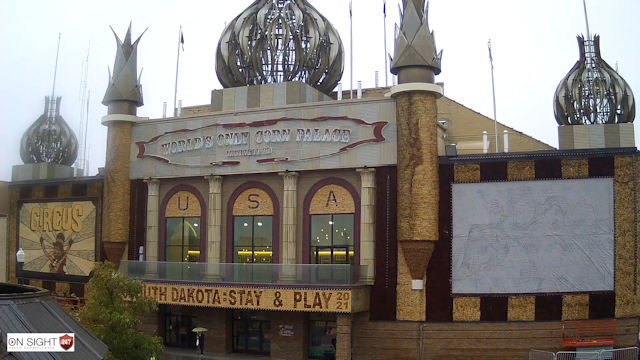 Michell Corn Palace Webcam
There are, in all honesty, some weird and wonderful tourist attractions in America and the midwestern state of South Dakota seems to have more than its fair share.
The Michell Corn Palace isn't actually a palace made of corn for most of the year. It is, in reality, a sports and events venue that was built in the 1920s in a style resembling a Russian palace. Who knows why, but it certainly got the rural town the attention it was seeking as even ex-president Barack Obama has been to take a look. 
The first time the outer walls were decorated with murals made from twelve varying shades of maize or corn cobs was in 1948 in an attempt to promote agricultural produce in South Dakota. The same designer completed the laborious task for twenty three years before someone else took over and now the annually changing designs are created by local art students.
The question is – if the sun shines directly on all that maize and it gets too hot, does the corn palace turn into a popcorn palace?