We're aware of an issue with this stream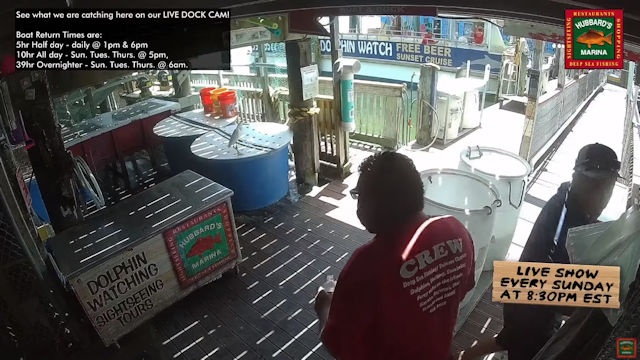 Hubbard's Marina Dock Cam
Click into this live feed from the dock in Hubbard's Marina in Madeira Beach, Florida, see the notice for a live show and you might think this is a cam from a quayside bar or restaurant. It's not.
Join the feed from Hubbard's Marina at eight thirty (EST) on a Sunday evening and you'll see fish, fish and more fish and be able to ask a question about them. These avid sea anglers love to show off the monstrous fish they've caught on their overnight fishing trips and talk non-stop about them as all fishermen do only when they say – it was this big – it really was THAT big.
What you'll see on the cam for the rest of the week is the boat crew getting the boat ready to cast off and take the passengers who teem in out on a dolphin search. And no, before you ask, they don't fish for dolphins. They leave those in the water where they belong.