We're aware of an issue with this stream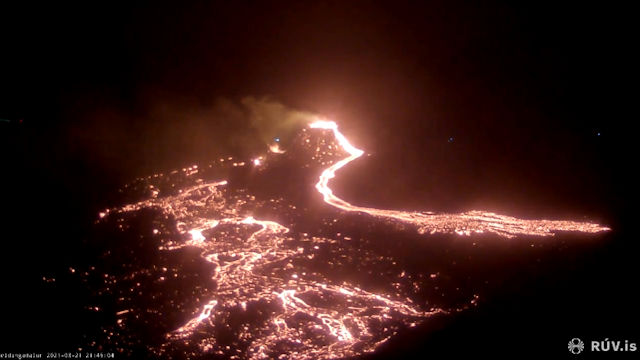 Fagradalsfjall Erupting Volcano Webcam
As the volcano is no longer erupting and there are no longer any live feeds, this page is here as a placeholder.
Mountains are an integral part of a country's landscape even when they're volcanos. Fagradalsfjall, a tuya volcano in Iceland, was just another scenic flat-topped peak until March 2021 when it began to exude streams of molten lava, ash, steam and everything else that goes along with a volcanic eruption. 
Fagradalsfjall is around forty kilometers from Reykjavik and a volcano that had kept a low profile for eight hundred years before demonstrating its true nature. The volatile expulsions spewing forth from Fagradalsfjall continued for several months, but have eventually slowed to a steady trickle of lava.
Now the danger levels have diminished somewhat, but not completely as you can never tell what a volcano is going to do, Fagradalsfjall has become one of Iceland's top tourist attractions. Hundreds of thousands have flocked to see the glowing mountain causing huge traffic tailbacks with cars stuck in queues for hours. That's not a good position to be in if Fagradalsfjall blows its top again and so the burning question at the moment is –  will it kick off again and if so, when?