We're aware of an issue with this stream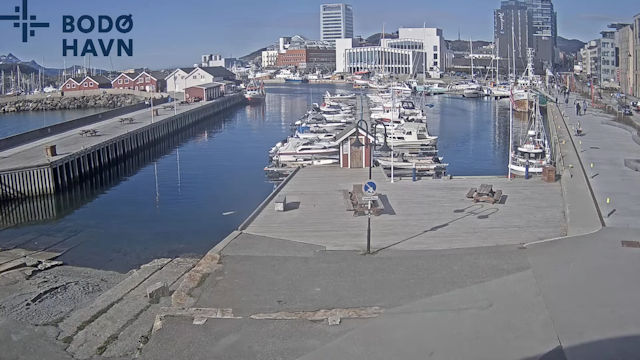 Bodo Harbour Webcams
Bodø sits on a peninsula in northwest Norway that's surrounded by the Norwegian Sea and flanked by the broad expanse of the Saltfjorden. Take a look at these two harbour live feeds and you might get the impression that it's a quiet town where there's not a great deal going on. You'd be wrong.
While Bodø may appear to be the epitome of tranquillity, it's not. Bodø has one of the liveliest cultural scenes in Norway and will be the European Capital of Culture in 2024. The town itself is full of amazing street art and its concert and festival scene is next to none.
All that aside, while Bodø might not be the quaintist of Norwegian towns view on these webcams, it gets a lot more attractive in winter. Drop into the Rønvik Harbour cam at the right time and it won't be festival lights illuminating the sky, but the aurora borealis. If you're ever in Bodø waiting for that spectacular to begin, you can always pass the time by going shopping for a bag made from salmon skin.