We're aware of an issue with this stream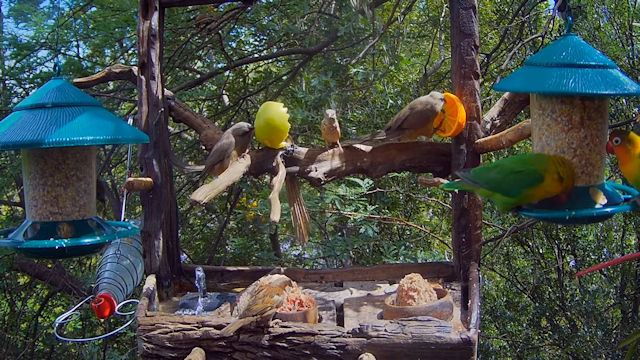 Bird Feeder and Owl Spring Webcams in Pretoria
Unless you're from South Africa or are an avid ornithologist, you may not recognise some of the species that pop into view on this bird feeder cam streamed by the folks of Allen Birdcam from their garden in Pretoria, South Africa.
Not only do some of these birds look very unusual, they also sound unusual so make sure to have the volume turned up. Some of the species that come to feast at the feeder are wood hoopoes, hornbills and the strangely named, grey go-away bird. Birds aren't the only creatures who come to the feeder. It's also visited by bushbabies and genet which are small cat-like creatures.
Don't expect to see scops owls on pogo sticks on the owl spring feed. You will see lots of feathery bodies enjoying a refreshing bath on occasion though, but strangely, the bird bath is nowhere near as popular as the free food at the feeder.  Now why would that be?