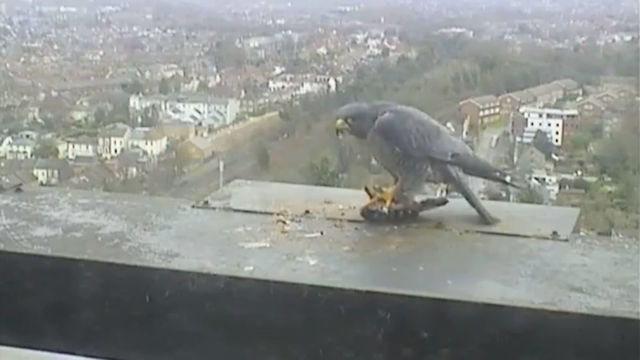 Peregine Falcon Rooftop Cam in Sutton
With this well-positioned peregrine falcon webcam, streamed by Nicholas Booth, not only will you see the resident raptor zoom in to roost, you'll also get a bird's eye view of Sutton in South London and the local weather too. Nice one, Nicholas!
Peregrine falcons are birds that really don't hang about and when they're diving after prey, they convert into the speediest creatures on earth. If they're not visible on the cam, check in the distance. You may spot a blurry dot swooping across the Sutton skies before it draws closer on its way in to land. Then again, you may not.
Whether you do or you don't spy the falcon, be prepared to see the leftover debris of its last kill. Peregrine falcon's really don't believe in doing their housework so there may well be pigeon feathers everywhere.